Photo Contest
Mukunda Bogati is a freelance photographer based in Katmandu, Nepal. With a background in journalism, he is currently the Nepal representative for Zuma Press Inc. HORIZON is pleased to present his photographs and writings, which speak volumes about the environment and development challenges of his home.
Note: HORIZON has just learned that Mukunda was awarded a prize as a "highly commended photographer" from the UK-based Christian development communications non-profit WACC, as part of their photo contest, "Images of Communication." Congratulations! Click here for more info.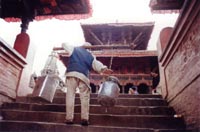 Water Porter: One old man who carries water from historical underground water source and provide to the local people. He will sell this water as 10 Rupees (1US$= 74 Nepali Rupees) per bucket.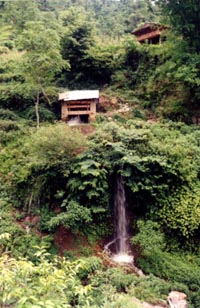 Water Mill: Nature has provided all type of services to people. But people don't always take advantage of natural opportunities to create energy. In the remote area of Nepal there is not any facility to generate electricity. So the local villagers have developed the water mill to grind their food seed. This type of mills run by waterfall and it is one of the reliable sources to them. If they preserve this type of mill and develop to electricity production it will be reliable energy source to local villagers.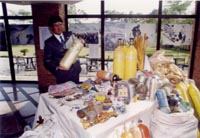 Waste from Top: During expeditions to the Mount Everest region, mountain climbers have left trash in their wake. One of the Mountaineers, Ken Nobuchi from Japan, has collected garbage up to 8,200 Meters.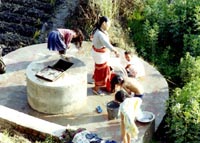 Cleaning from Clean: A village near the Nepal capital of Kathmandu is home to this well. They cover their underground water source by cement plaster so it will be easy for them to use for bathing and drinking, while keeping it clean.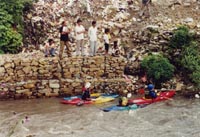 Aware of Pollution: Bagmati is one of the main holy rivers of Nepal and it flow the center of Nepal capital Kathmandu. Garbage and sewage flows directly into the river, but the local people are try to raise awareness to preserve the beauty of the river.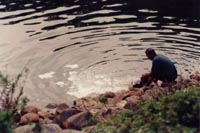 Stop to Them: Pollution is caused by humans. This picture is of one person who is washing clothes in a pond. He only adds a little pollution, but if other people will copy his work what will be the situation of this pond after few years?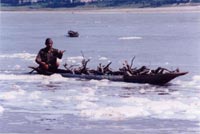 No Way: A paper factory releases chemicals into this river. The local villagers can not find the fish now because of the river pollution. If we don't stop this work now, in the future the river will be only chemicals.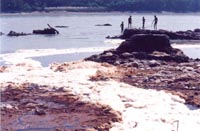 Future River: What will be the future of this river? This will be up to the next generation. The development of industry is currently destroying the beauty of Nature. So after the few years, there won't be any clean water in the river.
Let's make me first: In a remote area of Nepal, people cut the forest to meet their needs. But the destruction of the forest is rapidly increasing. Due to this deforestation, people face landslide problems every year. Due to the awareness of this problem, we could stop this destruction.
Preserve the Food: A traditional food preservation system in the remote areas is to store their food and seeds in the roof of the house. It is quite secure to them.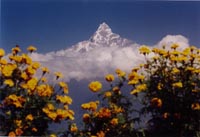 I Will See You: The beauty of the nature is undescribable. Mt. Fishtail one of the major attractions of the mountains in Nepal. If we couldn't preserve this beauty now, the future generation will not have this place.