Saving Otters,
Saving the Environment
(continued)
So What Do They Do?
1. National surveys: Pal convinced the Ministry of Environment and Regional Development to fund national surveys not only of otter populations, but also of the general condition of wetlands. In 1995-96, the first national survey was carried out by the Foundation for Otters. The second began in 1998 and is still ongoing.
The national surveys have two main objectives:

A. Examining the territorial distribution of the Hungarian otter population: exploring dangers and giving recommendations for protecting the species;

B. Deciding how much owners of wetland areas should be paid to compensate for damage caused by otters, and identifying the degree and the scale of damage.
Before the first survey began, Pal organized a conference with the participation of university students, local inhabitants, fishermen, hunters, and experts of nationally protected areas. Together, they designed the content of the survey and worked to recruit volunteer support. The conference was a great success, and 90 people volunteered. Fifty of them became a stable core for the Foundationís work, and they form the heart of the national network.
2. National Network: Palís network of volunteers has been expanding steadily. The network will be fully functional by early 2000. In November 1999, he is organizing a conference for the volunteers to work out the network's program for cooperation with the state. The volunteers form a surveillance network that patrols otter habitats two to three times per month and reports environmental changes like deforestation and pollution.
3. Education: With the help of the Budapest Zoo and the Otter Park the Foundation created in Somogy, Pal organizes biology and environmental courses for students throughout the country. The courses in Budapest are attended by school classes from Budapest and the Otter Park is visited by classes from all over Hungary. The Foundation also works with the Environmental Circle of the largest Hungarian university (The Eotvos Lorant Scientific University). Through this circle, he reaches other youth groups and expands his network of young volunteers.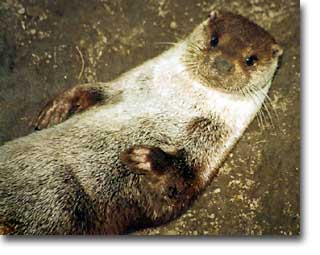 4. Partners: Pal also works with people who have previously been opposed to otter protection and wetlands reform, such as wetland landowners whose land is often damaged by otters. To get their cooperation, he has suggested that landowners should be reimbursed by the government for damage caused by otters, and has convinced decision-makers to make this program part of the new Environmental Law.
Pal is in constant contact with 315 landowners whom he informs about the new rules for compensation. He helps landowners to get this funding. Several thousand such landowners live in Hungary. To be able to reach as many of them as possible, Pal has contacted their professional organizations and cultivated good relationships with them. This was a crucial step: if these organizations accept Pal and his Foundation, landowners cannot refuse to do the same.
5. International Cooperation: Pal is working to put together a Czech-Austrian-Hungarian otter program for the years 2001 to 2002, to help guarantee that otters can expand to Austria. This program is supported by the Austrian branch of the World Wildlife Fund and Pal wants to involve Slovak and Polish organizations as well. The foundation is in contact with almost every Western European country. Pal established very strong cooperation with Czech and Polish organizations. In 1999, he found new partners in Slovenia and Croatia.
Partner organizations exchange information about otter populations and wetlands, work together to help each other and to use new methods and programs, and to exchange study visits. Pal has already hosted Austrian, German, Czech, Slovene, and French groups eight times.
6. Otter Park: With the cooperation of the Somogy Environmental Organization, Pal established the Otter Park in June of 1998 in southwestern Hungary. He created this park with the aim of presenting otters in their natural environment and providing environmental programs for school classes. New construction is underway and several new buildings are being built. Two people manage the daily activities and are paid by the partner organization.
In the beginning, the schools of Somogy county visited the park. Today, classes arrive from all over Hungary. Pal is planning to establish professional programs as well like a transportable otter ambulance and a national otter protection center with the cooperation of fishing organizations.
7. Media and conferences: Pal emphasizes the importance of media and public events to enlighten citizens about the significance of environmentalism and the protection of wetlands and otters. He is always active in the media with published articles, interviews on "green" TV, and radio programs. He lectures at national conferences and participates in international conferences.
In Hungary, he organized a series of conferences around the issues of environmental education, fishing, and hunting. Each conference was attended by 20-30 participants from very focused social and professional circles, such as university students, teachers, fishermen and hunters, experts and environmentalists. These conferences received a lot of media coverage, and have raised awareness of the otter preservation work throughout the country,
8. Film and Video presentations: Pal has created different kinds of film and video presentations for various groups (school children, university students, experts, etc.). These are usually about 45 minutes long.
When Pal wanted to reach children, he found that interesting, colorful performances were needed to get their attention. The presentation for children is not only about otters but also about the general protection of the environment and animals. Presentations for experts are more serious and include the problems and solutions of otter preservation and wetland protection.
9. Brochures and Books: The Foundation provides citizens with brochures and books to spread information about the environment, otter protection, legal changes, etc. Some of these include:
The Protection of Otters

Together with Otters

Ideas and Recommendations for the Future Protection of Otters

State support for Damage caused by Otters, and

The Long Term Strategy for Otter Protection.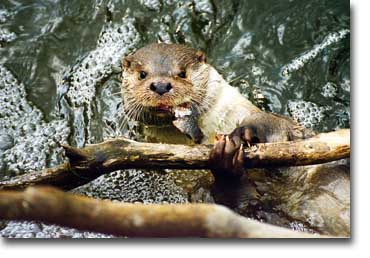 The Foundation for Otters sends these to schools, preservation organizations, universities, environmental organizations, libraries, etc.
10. Cooperation with Hungarian Nature Preserves: Pal is in a very close contact with all nine national nature preserves. They exchange methods and programs. These huge organizations ask Pal to conduct expert supervisory work for them.
11. National Database: Pal is planning to compile all of the data collected by the Foundation about otters and the environment and to make it easily accessible through a new database.
12. Lobbying: Pal's lobby work is one of his most important and successful activities. He was asked to participate in the creation of the new Environmental Law, convinced politicians to accept the idea of compensation, and put it into practice. Pal also worked out how to best go about assessing damage as well as its management and compensation. This methodology became the official national structure for damage revision and compensation and Pal's Foundation manages this task.
For more information, please contact:
Pal Gera
Foundation for Otters
Budapest, Nyirpalota u. 60. VII/29.
1156 Hungary
Tel: 36 1 410 3299
Barbara Eros
Ashoka-Hungary
Budapest, Uri u. 49.
1014 Hungary
Tel: 36 1 224 0780
Fax: 36 1 224 0793
Email: h9080ero@ella.hu
Activities and Puzzles

Crossword Puzzle - The Foundation for Otters.