Poetics of Peru: Departure
The following are excerpts from an essay written by CARE Youth Corps 2000 member Wills Glasspiegel. For a copy of the complete essay, please call the CARE Midwest Region office at (312) 641-1430.
In the peace that ensued during my alarm clock's snooze, I listened for the last time to Chicago summer winds that brushed the blackness of my windowpanes. I wondered what the winds sounded like in Lima.
My trip to Peru was still only a dream behind closed eyes. I turned on the bedside lamp and was jolted with piercing light, cutting the darkness into pieces that scattered around the room as my eyes darted for shadows in which to hide.
The next thing I recall was floating on dawn energy through O'Hare Airport as rising light dipped down in beams through the glass ceilings. I had already met the group of nine other high school students with whom I would travel to Peru representing the international development organization CARE.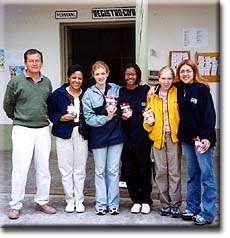 Our mission for the next three weeks in Peru was still hazy as we embarked on the eight hours of traveling that would carry us to Lima that night.
CARE had chosen us to take a trip across Peru, not only to be sponges to soak up everything we saw and squeeze it all back out when we returned, but also to serve as ambassadors from our country and from the organization. We were all Chicago area high school students. Nonetheless, in race, class, gender, and culture, we were a very diverse group. But as walkmans turned on and pictures changed hands, we found that the group had a lot in common, including that none of us fully comprehended what CARE was. None of us could even imagine the incredible power of the organization that would later inspire us infinitely.
CARE introduced itself as a development organization active mostly in Third World countries putting together local projects in areas such as sanitation, education, equality, health and micro-credit enterprises. We read about the work CARE had done in different countries, delving deeply into detailed project reports and case studies. The question that lingered in our minds, setting off fiery curiosity and interest, was how we would not only be able to help the organization, CARE, but also how in the world we would be able to communicate and work side by side with people whose hands were completely different from ours, whose fingernails were dirtier, whose palms were more callused and whose skin was a different shade.
Getting Our Feet Dirty
The first town we came upon in an exhausting string of life-changing visits to CARE projects in the Peruvian region of Cajamarca was called, La Viņa. The pueblo lined up directly between two elongated mountains that stretched out into the horizon, squeezing the wonderful town between them.
The children of La Viņa were immediately fascinated with the big American strangers in their town, trying to speak their language.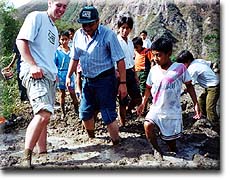 We somehow communicated as they taught us how to make adobe and encouraged us to take off our shoes and stick our feet in the mud, letting the straw and dirt mix between our toes. We marched around, almost side by side with the hard working local children. Our steps followed theirs as the straw and mud was mixed so that it could later be baked under the mountain sun. We worked together with the children in order to understand how Peruvians create and mold new building blocks.
Out of all the incredible meals we enjoyed in Peru, that day's lunch in La Viņa was the most memorable. After speaking with a woman who had started a duck farm with a loan from CARE, we saw her grab one of the ducks, stuffing it into a bag.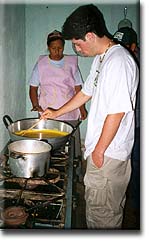 We didn't know, and neither did the animal, that the duck would be our lunch.
We feasted that afternoon. The duck was prepared perfectly over a fire, accompanied by the omnipresent rice and black beans. With a little ají, the local hot sauce prepared differently across Peru, the duck was better than Thanksgiving dinner. And we were probably more thankful for it. As if this wasn't enough, the lunch was accompanied by homemade bread, smeared with CARE sponsored Mango Marmalade.
By teaching basic business techniques regarding organization and dealing with competition, CARE is able to help many people start small ventures from within their rural communities. The kind lady who served us her marmalade had participated in a CARE business education seminar. She worked with CARE to identify a way to pierce the intensely competitive rural markets with a new, innovative, in-demand product. Because the only available marmalades in Peru are usually strawberry or orange, she founded a business with the goal of selling her mango marmalade as far away as Lima supermarkets. With CARE's help, she had constructed a budget and was facing the market with new smarts and business savvy. As we helped her prepare a batch of marmalade, stirring the sizzling mango syrup, she talked with us about how CARE had changed her life. It was amazing to see how far a little help could go when given to the hard-working men and women of the Peruvian countryside.
Over the next two days, we realized why we had traveled so many miles to sleep without beds or mattresses, to live without bathrooms and showers. This rugged section of our trip weighed heavy on some. But for most, it was a chance for illumination, for transformation -- a chance to feel Peruvian.
We opened our eyes early each morning to drink the dawn. The rising sun cast long shadows behind our tired legs. But our eyes and ears kept open even when our bodies yearned to close. In the campo, life starts with dawn's whip. It cracks with the roosters and moves with the sun.
As we moved along the mountains, we continued to discover new ways in which CARE occupied important places in small, local communities. CARE did not simply plant seeds of development. It might have supplied the seeds, but CARE also taught the local peoples how to water their plant, how to take care of its flowers, and how to germinate neighboring towns with new seeds.
In another small village in which CARE had installed a water purification system, we took a hike up 11,000 feet to help clean the filters. Through loans and donations, CARE had helped this town build its own portable water filtration system. CARE taught the local men how to keep the system working and how to fix it during inevitable malfunctions. These men had in turn taught people from a neighboring town. The modern development tree spread its seed from neighbor to neighbor not by email, but by real communication, the kind of communication that walks over mountains, the kind of communication that lies at the heart of all of CARE's work.
Before Cajamarca, it was hard for us to imagine the power of CARE's seeds in any community. At first, CARE felt like the Microsoft of the development world - too big to fill small holes in tiny Peruvian pueblos.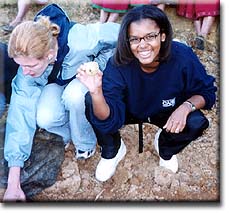 But as we picked potatoes at 10,000 feet and learned to process cheese with only the light of sunset, we learned about CARE from the people whom the organization effected most, the people for whom CARE was most local and most important. CARE Peru was not the branch office of an American international development institution; it was a Peruvian organization with grass roots in the smallest of towns. The larger world development aim of CARE was clearly overshadowed by the incredibly localized efforts that help the everyday Peruvian campesino.
Sleeping cold in broken houses blanketed only by the mountains' darkness, the starriest of ceilings inspired us to dream like Peruvians. We dreamed on foundations of history, hard work, honesty, faith, and love. We dreamed with wings and open eyes, gliding over the villages that sparsely speckle the mountains. We flew because CARE helped us take off, teaching us to maneuver the eddies that bend and whirl the air of the Andes.