Tell me about it!
Everybody knows that the world is filled with serious problems which affect many aspects of all of our lives. Problems like hunger, over-population, and environmental destruction.

These problems won't go away by themselves. And we can't assume that "other people" will solve them for us. We all have to get involved.
All over the world, people are working hard to find solutions to these problems - solutions which we can study, learn from, and try to duplicate in our own environments. If it works in Brazil, why not in Tibet?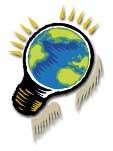 While geography may differ, and different cultures may present unexpected challenges and obstacles, the root causes of many problems can be very similar everywhere in the world; so can the solutions to those problems. This site will present some of the best of these solutions.
Most importantly, this site is a chance for you to tell us about the solutions youth have developed in your community, whether it is a science project or a community service activity. Tell us what you are doing to solve problems, and we will post it on this site for people around the world to see.