Empowering Women
Through Karite
(Any time you see a link, you can click it for more information on that word or topic)
What's it all about?
In Sahelian Africa, an organization called the Songtaaba Women's Group has been transforming one of the few economic assets which are controlled by women - karite butter - from a less-than-subsistence, informal-sector (or hobby-like) activity into a formalized and systematized cottage industry. In doing so, they have created a potential source of not only dramatically increased incomes, but also new jobs, new skills and opportunities, and the organizational training for further expansion of women into formal economic activities.
What's the problem?
In the Sahelian countries, the semi-arid regions of Sub-Saharan Africa, severe deforestation and desertification are taking a great toll in terms of loss of natural resources, livelihoods and health, and there are few socially acceptable activities where women can earn their own money. The manual extraction of karite (shea) butter is one of the few. Until recently, however, women had no control over how the product was actually marketed; they were limited to selling locally the small quantities they made individually or as part of a small group of individuals.
Burkina Faso is a West African land-locked country in which women constitute 52% of the population of approximately 10 million inhabitants. Burkina Faso is ranked as one of the poorest countries in the world, and one in which more women than men live in poverty.
What's the Story?
Songtaaba (which, in the Moore language, means "to help one another") researches business partners for the sale of its karite butter. It has a production capacity of 60 tons a month of high quality karite produced by 350 productives in six provinces of Burkina Faso.
In the West African region, karite butter is used as a foodstuff. It is also used for making bath soap, laundry soap and other diverse products. In the US, Europe and Japan, karite butter is imported for use in making chocolate and baking, for pharmaceutical products, and for cosmetics.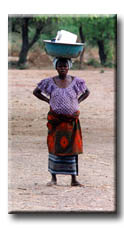 Traditionally, the manual transformation of the karite seed into butter is exclusively a feminine activity in Burkina Faso and, in general, in the rest of West Africa.
Efforts to fight against desertification by prohibiting abusive wood-cutting are also spurred on by karite use. The karite tree, whose economic value is increasingly well-recognized, is often protected by landowners and farmers. In areas where severe desertification starts, karite trees are particularly well protected. Protection of the karite tree also helps sensitize people to other ways to reduce deforestation, such as by building improved wood-burning stoves and encouraging artisans to become involved with their fabrication.
Burkina Faso has great potential to produce and transform karite nuts for a variety of uses. Karite nut is currently its third most highly exported agricultural product. However, the production of karite for national and export sales remains much less extensive than it could be.
How'd This Get Started?
Marcelline Ouédraogo brought "assembly line" scale economics to bear on karite production when she created her first 30-woman cooperative in 1990. She based this undertaking on existing women's cooperative organizations which she then built into an enterprise that is democratic and cooperative – one that is as concerned with raising the status of women as it is with generating profits.
In the venture, individual participants were no longer responsible for all steps of the production process. Instead, each woman was assigned to work on a specific stage: cultivation of the karite; preparation of the raw material for extraction; oil extraction; further processing of the karite butter depending on its anticipated end use; and packaging. In addition, Marcelline Ouédraogo and the members of the Songtaaba cooperative began marketing the product to larger-volume buyers.
As a result of a currency devaluation in Burkina Faso in 1994, there were major changes in national and local consumption patterns. Local products became more sought after due to price increases on products traditionally imported from Europe.
By 1996 the cooperative had identified a market for karite butter of approximately five hundred tons with a market value of US $410,000.
Now, women workers are paid according to the task and their availability. They are given flexible working hours even when they are organized into teams. For the first time, through the association, women members are able to gain access to a line of credit. The association also established a special fund to help when members experience particular difficulties such as a death in the family, medical emergencies or the need for help with school fees.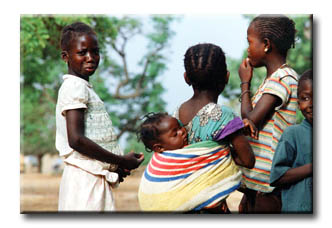 Cash flow was typically a major problem that hindered women's activities. Songtaaba managed to obtain a loan from a credit union to support each collection campaign.
To market the karite products produced by the Cooperative, two kiosks were created to display and to sell its products. These displays are also aimed at increasing Songtaaba's visibility and publicity in Ouagadougou, the capital city. For some clients, products are delivered at the workplace or at home and payments of such orders are collected at the end of each month.
To guarantee the women's income, they take turns doing the work and are paid on a per-task basis. Songtaaba's activities are spreading throughout the country and women's groups have been invited by their counterparts in neighboring countries to train them to handle the whole process.
Two thousand women have been trained throughout Burkina Faso to treat, collect and transform the karite butter and related products. In order to ease the tasks of women producers, karite products are processed using a semi-industrial machine in urban areas, and with manual presses in rural areas.
How's the Project Organized?
Songtaaba's organizational structure includes a Permanent Secretariat, a General Assembly, a Board of Directors, and management committees. The secretariat is composed of a sociologist in charge of program/project implementation, four saleswomen, a secretary, a driver and a security person. Their monthly salaries are paid from Songtaaba's funds. The General Assembly has the higher management decision-making role and is comprised of women producers. Local branches are composed of grassroots village groups that are members of the General Assembly. The Board of Directors is the executive body of the organization. Songtaaba also includes management committees. These positions are held by unpaid volunteers.
In keeping with the Platform of Action of the Beijing Fourth World Conference on Women, Songtaaba emphasizes the participation of women in economic activities to improve their social conditions and their educational level, to reduce their fertility rate, to increase their life span, and to reduce poverty. To further these objectives, Songtaaba gives training in management, in literacy, in family planning, and in evaluation follow-ups, which complement income-generating activities.
How's it Going?
The project continues to be successfully underway. The impact of Songtaaba's initiative is multiplying and growing, profiting all who participate or operate in the Karite Network (women and men) and who benefit from all positive repercussions.
Songtaaba is now seeking to create six micro-enterprises of production of karite butter and of other products, such as the soumbala, peanut butter, dry and fresh vegetables and fruits, and karite butter soap.
Other activities undertaken are to build the capacities of Songtaaba's members: Installation of purification systems for handling water used in production and the creation of a sewing center for twenty underprivileged girls.
Building on her experience with Songtaaba, Marcelline Ouédraogo organized the Collective of Producer Associations of Karite Butter and Other Products, which now has 350 women members in five provinces. The associations, in turn, work cooperatively: for example, some of them focus exclusively on supplying Songtaaba with raw material for processing.
Under Songtaaba's organizational structure and Marcelline Ouédraogo's initiative, she represents the association in the Orientation Committee of the Ouagadougou-based Karite Project (Projet Filiere Karite) that has been set up by a Canadian agency.
Songtaaba has recently welcomed its first Malian Cooperative to the Collective of Producer Associations of Karite Butter and Other Products.
Marcelline Ouédraogo now has a three-part objective. First, she wants to spread this form of organized approach to other West Africa countries. Second, she wants to upgrade the production process, starting with the introduction of an oil press machine. And third, she wants to market her product directly to overseas buyers, who she sees as her largest and least-tapped market.
In addition, Marcelline Ouédraogo is working with a local research institute to develop a new hybrid of the karite tree that will bear fruit at a much faster rate.
The person:
Marcelline Ouédraogo, an Ashoka Fellow, was born in 1958 and became involved in women's issues when in secondary school. There she organized activities supporting girls' schooling and opposed forced and early marriages and genital excision/mutilation. After graduation, Marcelline went to work for a telecommunications company. She is married, with three children and four adopted orphans.