CARE Youth Corps: An Overview
Most people have heard of "CARE Packages" and are aware of the concept. Yet, they do not know where CARE Packages originated from and who was actually behind it all.
Read "Poetics of Peru", excerpts from an essay written by CARE Youth Corps 2000 member Wills Glasspiegel.
CARE is a private organization created after WWII to provide aid to countries struggling with poverty throughout Latin America, Asia and Africa.
CARE provides help in more ways than just "CARE Packages". They provide assistance to communities and families through programs in agroforestry, water and sanitation and natural resource management. Much of the work performed by CARE is made possible by private donations. This is one of the many reasons why it is important for people to become aware of the issues CARE addresses and the work that is being done.
CARE decided to take an initiative and provide a way for high school students to learn more about CARE projects, and get hands-on experience working with the people who benefit from their aid. CARE Youth Corps 2000 was composed of ten Chicago area high school students, who were given the opportunity to travel to Peru for three weeks.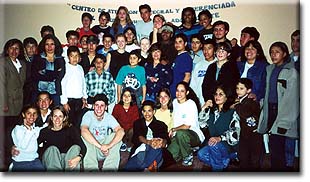 On this journey, CYC participants traveled to Lima, Cajamarca and Cuzco visiting CARE projects, government officials, and other grassroots organizations.
Lima was the start of the journey and served as home base for the duration of the three weeks. While in Lima, participants focused on CARE's work with micro-enterprises. We were educated on the process of how micro-enterprises are formed. We also visited actual sites where project participants produced silver, alpaca wool products, wood furnishings and mirrors.
Another important part of our experience was the daily communication on the internet via the Youth Corps website. We were able to post photos and journal entries that allowed people around the world to travel with CYC and receive written and visual information on our various activities.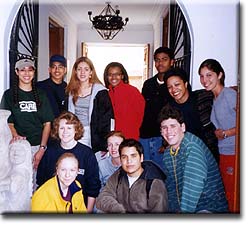 After leaving Lima, we traveled to Cajamarca, a bustling Andean town in northern Peru. In order to insure that each student received hands-on experience at the CARE projects, we were split into three groups. One group went to Cajabamba while the others went to Celendin and San Marcos. These four day excursions included days filled with work on water sanitation and agroforestry projects. We did everything from making marmalade to planting potatoes and trees to constructing walls at water sanitation sites. Working with children in the communities was also a main focus. Therefore, visits to both primary and secondary schools were incorporated into our schedule as well as trips to local clinics and hospitals.
Although the main focus of CARE Youth Corps 2000 was to integrate students into CARE's work, the trip was not solely about business. While providing the students with more background on CARE, they also provided an atmosphere where the group would be having fun at all times. Throughout the three weeks, we attended social gatherings, had days of shopping and relaxation or simply games and fun. CARE also made sure that while the students were in Peru for their first time, they saw as much of the country as possible. Various tours and a wonderful trip to Cuzco and Machu Picchu were a large part of the overall experience.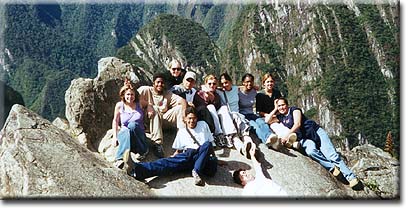 CARE Youth Corps 2000 is just the beginning of CARE's effort to make the world aware of their work. Though this trip was a pilot, it will most likely be continued in the future. Even though we remained in Peru for only three weeks this does not mean we have completed our journey. We are determined to spread the news of CARE and its work in countries like Peru to as many people as possible. There will be assemblies, meetings, and other events where CYC participants will speak about their experiences. If anyone is personally interested in learning more about CARE or working with them in some way, you can visit their website at www.care.org or contact one of their offices.

Submitted by:
Nichole Bush
CYC 2000 Participant